NASA's Artemis 2 is feeling realer by the minute. The next upper stage of the Space Launch System (SLS) megarocket is now ready for tests at Cape Canaveral, Florida, in advance of the upcoming mission.
Astronomers Could Soon Get Warnings When SpaceX Satellites Threaten Their View
United Launch Alliance (ULA) has started testing the second Interim Cryogenic Propulsion Stage (ICPS), which recently came out of its storage and moved into a test cell at the Delta Operation Center for pre-flight testing and preparations, according to ULA.
ICPS is the upper stage of NASA's SLS rocket, which the space agency used to send the Orion spacecraft on an uncrewed trip to the Moon in November 2022 for its Artemis 1 mission. But for the follow-up mission, slated for launch in 2025, another ICPS will be used to transport the Orion spacecraft while it's carrying four astronauts on board.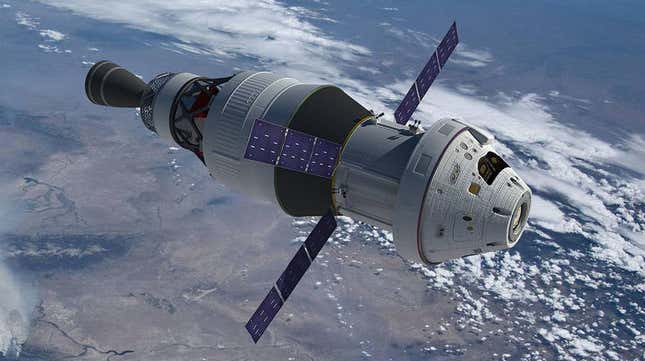 Under a collaboration with Boeing, ULA has manufactured three ICPS stages so far at the company's factory in Alabama. ICPS-3 will be used for Artemis 3, which is designed to land astronauts on the lunar surface.
The rocket stage is based on ULA's Delta IV Heavy rocket, which has been in operation since 2004. "ICPS features a slightly larger liquid hydrogen tank as compared to the Delta IV second stage, as well as electrical and mechanical interfaces specific to attaching and supporting the Orion spacecraft, and a second hydrazine bottle for additional attitude control propellant," ULA wrote in its statement. The Artemis ICPS also includes other hardware changes that cater to human safety such as an Emergency Detection System, according to ULA.
ICPS-2 will eventually be fitted on top of SLS's core stage. The upper stage is designed to boost the Orion spacecraft to a high Earth orbit of 68,000 miles (109,435 kilometers) above the planet's surface before separating from the crewed capsule.
The Artemis 2 mission is coming together, with NASA making progress with the core stage and recently revealing the identities of the four astronauts flying on board Orion to the Moon and back. The astronauts will embark on a 10-day journey to the far side of the Moon, flying to a distance of about 230,000 miles (370,150 km) away from Earth. The Artemis 2 crew won't get to land on the lunar surface, instead they will journey back to Earth and splash down in the Pacific Ocean to finish off their mission.
Want to know more about humanity's next giant leap in space? Check out our full coverage of NASA's Artemis Moon program, the new Space Launch System (SLS) rocket and Orion spacecraft, the recently concluded Artemis 1 mission around the Moon, the four-person Artemis 2 crew, NASA and Axiom's Artemis Moon suit, and the upcoming lunar Gateway space station. And for more spaceflight in your life, follow us on Twitter and bookmark Gizmodo's dedicated Spaceflight page.
[ad_2]

Source link