Star Wars Celebration 2023 is over, and for the first time in years, we have a solid idea of what the franchise's cinematic future will be.
The Rings of Power | First Fandoms
As usual, we're due a new trilogy of films, but in a twist for the series, it'll be set across multiple points in time. James Mangold's film will focus on the original Jedi thousands of years ago; Dave Filioni's film will tie up the threads established across The Mandalorian and other live-action shows; and Sharmeen Obaid-Chinoy's movie tackles the post-Rise of Skywalker period, with Daisy Ridley set to return as an older version of Rey that's determined to establish a new Jedi Order.
All three have their own pros and cons, but the last one will almost certainly make most audiences pause for thought. It isn't just that we'll finally see what the universe has been like after Palpatine returned via Fortnite and then essentially nuked himself to oblivion. Reuniting with Rey means that the currently untitled film will have to address John Boyega's Finn, the other Force-sensitive newcomer who seemed set up as that trilogy's protagonist before the release of The Force Awakens, and then… wasn't. Whenever the sequels are brought up in conversation, it doesn't take long for someone to bring up how those films were thoroughly disinterested in him to the point that you may not actually know he's Force-sensitive by the end of Rise of Skywalker. (It's clear across the films, but was made more explicit by Boyega and writer Chris Terrio post-Rise's release.)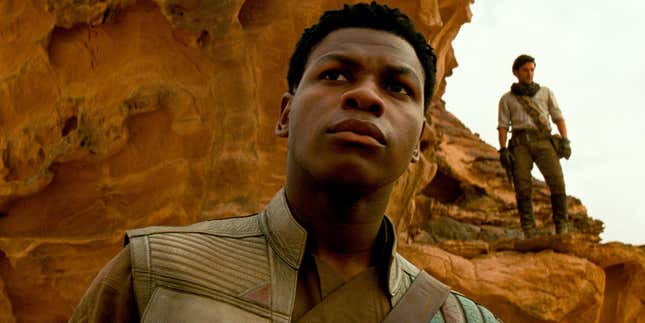 Disney's noticeably spent the last four years focusing on any period in Star Wars that didn't fully touch the Sequel Trilogy, and in that time, folks have been hoping for Finn to get his own solo project that treated him right. The movie is still a ways off, and we likely won't know a thing about the character possibly coming back for another couple of years. If he did return, it wouldn't be terribly surprising: bringing back veteran actors to a new point in a franchise's timeline is part of the game nowadays, and in some cases, that's the entire point of the project itself. Star Wars practically invented the trend as we know it today, what with Daniel Logan, Katee Sackhoff, Temuera Morrison, and so many more actors returning in some capacity. Unless a character's original actor is straight up dead (and even that may not be a deterrent anymore), there's a good shot you'll see them come back again at least once.
What's worth asking, though, is if Finn coming back in his Jedi prime is actually a win for Star Wars or a win for the image of Star Wars. The fanbase got pretty racist toward the character and Boyega back then, and what made it worse was that for the most part, Disney effectively left him to fend for himself. Fandoms being incredibly racist is nothing new, and the series ran into that issue again with Obi-Wan Kenobi's Reva (Moses Ingram). Unlike with Boyega and his co-star Kelly Marie Tran, who also was also targeted by toxic fans, Disney was more active in keeping Ingram safe from racist trolls, and that protection was similarly extended to Leah Sava Jeffries in the upcoming Percy Jackson Disney+ adaptation.
What many would consider to be a win for Finn is if he effectively got to show up as a Jedi Master, not unlike what happened with Ahmed Best. Best played Jar Jar Binks in the prequel trilogy, someone who was widely reviled across the years, to the point that the actor admitted it gave him depressive and suicidal thoughts. Best recently appeared on The Mandalorian as his Jedi OC Kelleran Beq, who—as we saw in a flashback—rocks two lightsabers and saves Grogu from being Order 66'd. But it's clear that the fandom hasn't learned anything since then. They just move on to other targets, and even with Disney gradually becoming wise to what's going on, the fandom remains Star Wars' biggest enemy.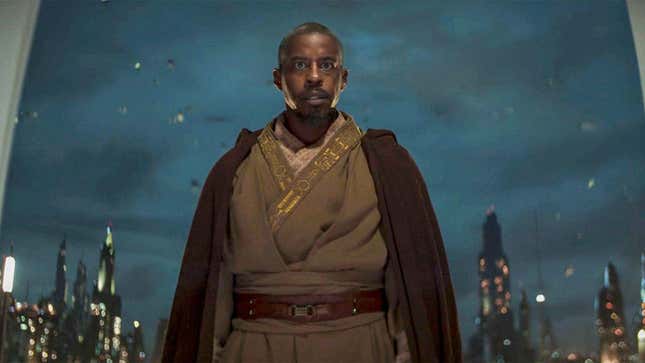 Unlike other actors in this franchise, Boyega had made it quite clear that he doesn't really have much of an interest in coming back to Star Wars now that his contract is done. As recently as last year, he's still been fairly candid about the ways that Disney and Lucasfilm failed him and Tran when the pair were largely being introduced to the world via these movies. Time (and money) changes one's perspective on things, sure, and he indicated not too long ago that he's found some closure on the matter. But that doesn't change the fact that the both the company and fanbase made the experience of being an up-and-coming actor deeply unpleasant for him because he was Black.
Yeah, having Finn come back to the fold 15 years later and doing Force stuff with a lightsaber would be cool. (Well, one can imagine it'd be cool; jury's out on the execution, since Star Wars' tendency to bring back legacy characters has a spotty track record.) But it'd also be more than a little self-congratulatory on the part of both Disney and the Star Wars fanbase at large. Neither party has really earned the right to ask if Finn can or should come back, and they probably never will. And if the film feels a little awkward because he's not there, that's not really Boyega's fault or problem.
It all comes down to him, obviously, and if he feels like he's in a position to get better treatment for his character and ensure he (and other actors of color in that film) are properly protected. Either way, the way he was done dirty can't really be wiped away, even if Finn had a sick new lightsaber or showed up with Poe as his husband.
---
Want more io9 news? Check out when to expect the latest Marvel, Star Wars, and Star Trek releases, what's next for the DC Universe on film and TV, and everything you need to know about James Cameron's Avatar: The Way of Water.
[ad_2]

Source link