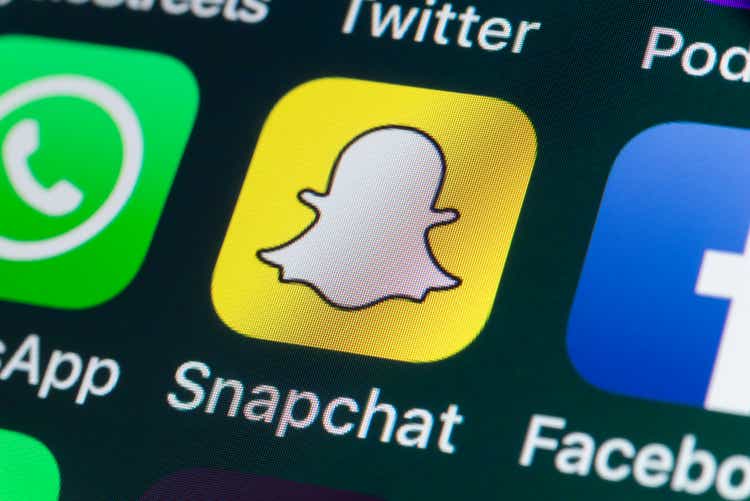 Snap (NYSE:SNAP) is slated to report first-quarter results on April 27 and the Evan Spiegel-led company looks to be heading "into the unknown," given the number of headwinds it is facing, investment firm Monness, Crespi, Hardt said.
Analyst Brian White, who has a neutral rating on Snap (SNAP) shares, said daily active user growth is likely to remain healthy (with expectations for a 16% year-over-year rise to 385M), but that is not likely to translate into revenue growth.
White expects Snap (SNAP) to see a 4% year-over-year decline in sales to $1.025B, with a 2 cent-per-share loss. On a sequential basis, that represents a 21% decline, weaker than the 17% decline for previous March quarters.
Looking ahead, White is expecting a bit of a rebound for the second-quarter, with revenue up 4% year-over-year to $1.15B, slightly ahead of Wall Street's estimate of $1.101B.
Snap's (SNAP) business has been impacted by Apple's (AAPL) App Tracking Transparency changes and the rise of ByteDance's (BDNCE) TikTok, but with TikTok under fire in the U.S. after last month's disastrous hearing, the company could benefit, White added.
"In the end, we believe the hearing highlighted strong bipartisan support for swift action to be taken against TikTok in the U.S. to ensure the platform no longer operates in its current form," White added.
Late last month, Snap (SNAP) said Rob Wilk will join the company as its new President of Americas for the company.
[ad_2]

Source link