Pep Guardiola has defended Manchester City's failure to win the Champions League, pointing out that even sporting greats Jack Nicklaus and Michael Jordan lost more often than they won.
City will play Bayern Munich in the Champions League quarter-finals – with the first leg at the Etihad Stadium on Tuesday – after reaching the last eight for the sixth successive season, but they are yet to lift the trophy.
The closest City came was under Guardiola two years ago, when they made their only appearance, to date, in the final but lost 1-0 to Chelsea in Porto.
Guardiola won the Champions League twice during his time in charge of Barcelona and he accepts the expectation since he arrived in England has been that he will guide City to European glory, saying: "We want to try.
"It's an honour to be here, against an elite club like Bayern Munich. We are happy to be here.
"You have to deserve it. Six, seven years ago when I arrived here – 'you are here to win the Champions League'. It comes every season.
"We tried every season but there are teams you face who are good too, and they want to win it too.
"We want to try but that doesn't mean we're going to win. Jack Nicklaus, how many majors did he play in his career? 120? How many did he win? Eighteen – wow. He lost more than he won.
"Michael Jordan, the best athlete, won six NBA titles. How many years did he play? Sixteen? He lost more than he won.
"These games are so difficult. The important thing is to be here, compete well and do our best.
"If I lose, I lose. I'm not perfect."
Pep: 'Creative' Tuchel won't come for a draw
Pep Guardiola says the change of manager at Bayern Munich from Julian Nagelsmann to Thomas Tuchel does not change how difficult Manchester City's Champions League encounter will be

Bayern were coached by Julian Nagelsmann when the quarter-final draw was made, but last month replaced their manager with Thomas Tuchel – who was in charge of Chelsea when they beat City in the final in 2021.
Tuchel has won two and lost one of his three games in charge of Bayern so far, but Guardiola insists he is more focused on his own side than anything his opponent may or may not have up his sleeve.
"Both are so creative with the shape of their formations and the shape they play," Guardiola said when asked about the differences between Nagelsmann and Tuchel.
"We've seen the shape of Bayern Munich that Tuchel has played, but maybe tomorrow he's going to do something new. Always we try to figure it out.
"They have quality in all departments. It would have been difficult with Nagelsmann and it will be difficult with Tuchel.
"But at the same time, I don't pay much attention to them and try to focus on our team."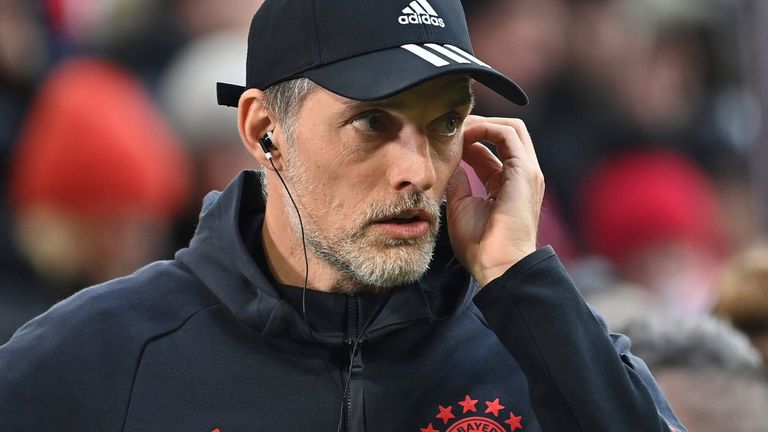 Bayern have the benefit of playing the second leg in Munich next week but Guardiola, who won three consecutive Bundesliga titles during his time in charge of the German giants, dismissed any suggestion that Tuchel would come to the Etihad with a defensive game plan.
"Bayern is not a team built just to think it's going to happen in the second leg," said the City boss. "They will come here to win.
"From my experience when I was there, it doesn't matter where you play – you have to be Bayern Munich and try to win.
"If they defend more than usual it's because we are doing well, not because their approach is to come here and sit back."
Tuchel: Pep is unique | 'I hope I can sleep!'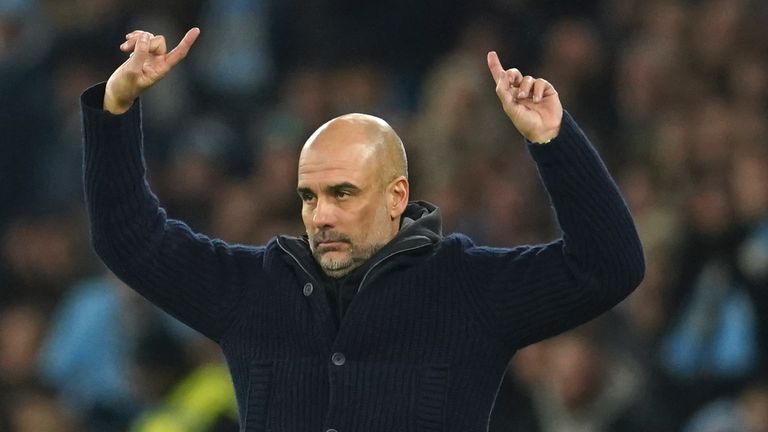 Tuchel admitted he has had trouble sleeping in the build-up to Bayern's Champions League tie against City.
Bayern boss Tuchel revealed he was hoping for an early night following his team's arrival in Manchester but conceded that might not be possible as he mulls over his tactical plans.
The former Chelsea manager said: "I will try to go to bed early. I just hope I will be able to sleep.
"The best preparation is sleep but sometimes it is hard to get that sleep when you're thinking about things.
"This morning I woke up really early and I just decided to go to the training ground because I couldn't get back to sleep. I just kept thinking about the match."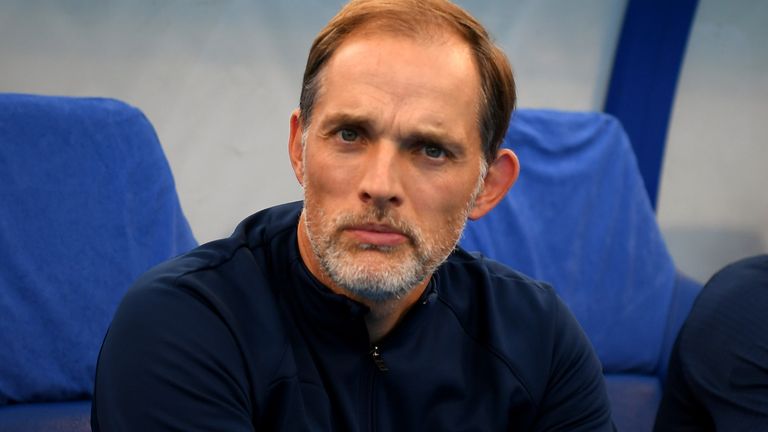 Tuchel will be coming up against City boss Pep Guardiola for the 11th time in his managerial career.
The German has won just three of their previous encounters but one of them was the 2021 final, when he guided Chelsea to an unexpected victory over City.
Tuchel said: "I don't think I can learn much from other games I've played against Pep.
"It's unique what Pep does. We'll try to find solutions but we'll need a complete performance to create problems for City.
"We did not mention this (2021) final and we will not do it. That would feel very awkward for me. We focus now on our team."
Tuchel's return bad news for Guardiola and City?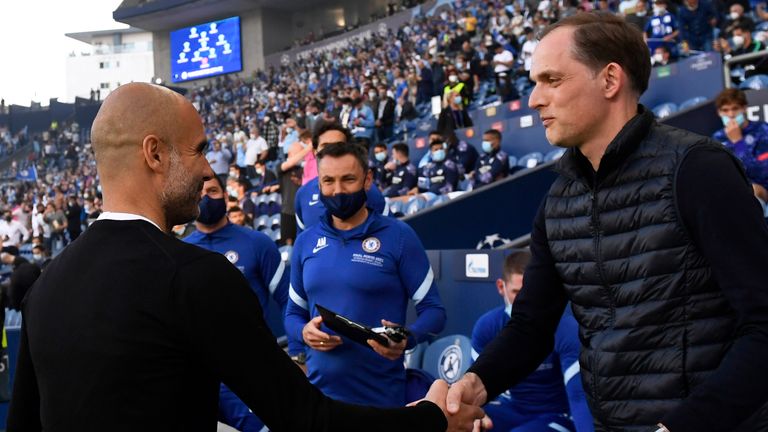 Sky Sports' Joe Shread:
Thomas Tuchel's surprise appointment as Bayern Munich manager certainly wasn't great news for Julian Nagelsmann, but it wasn't ideal for Pep Guardiola, either.
With less than three weeks to go until he welcomed the German champions to the Etihad, Guardiola would have been preparing to face an under-pressure manager against whom he has a 100 per cent record.
But instead, Bayern's ruthless decision to replace Nagelsmann with Tuchel presents Guardiola and City with a very different challenge – and one they may not be relishing.
Guardiola vs Tuchel
October 19 2013 – Bayern Munich 4-1 Mainz, Bundesliga
March 22 2014 – Mainz 0-2 Bayern Munich, Bundesliga
October 4 2015 – Bayern Munich 5-1 Borussia Dortmund, Bundesliga
March 5 2016 – Borussia Dortmund 0-0 Bayern Munich, Bundesliga
May 21 2016 – Bayern Munich 4-3 Borussia Dortmund, DFB Pokal final
April 17 2021 – Chelsea 1-0 Manchester City, FA Cup semi-final
May 8 2021 – Manchester City 1-2 Chelsea, Premier League
May 29 2021 – Manchester City 0-1 Chelsea, Champions League final
September 25 2021 – Chelsea 0-1 Manchester City, Premier League
January 15 2022 – Manchester City 1-0 Chelsea, Premier League
Tuchel, of course, was the manager who denied City their first Champions League title in 2021 when he guided Chelsea to a 1-0 victory in Porto.
In fact, that win was the third Chelsea recorded over City in the space of six weeks, with Tuchel's side also defeating Guardiola's in the FA Cup semi-finals and during a Premier League meeting in Manchester.
But while those games – particularly the Champions League final, which was Tuchel and Guardiola's only previous meeting in the competition – suggested the German has the upper hand over the Spaniard, results before and after the spring of 2021 show otherwise.
Guardiola first encountered Tuchel when he himself was in charge of Bayern and his opponent was at Mainz, with the Bundesliga giants winning both encounters.
Guardiola also claimed the bragging rights during Tuchel's time at Borussia Dortmund, with Bayern winning two – a 5-1 thrashing in the league and a thrilling 4-3 victory in the cup final – and drawing one of their meetings.
It was during this time that the two managers struck up a close relationship, despite being in charge of rival clubs.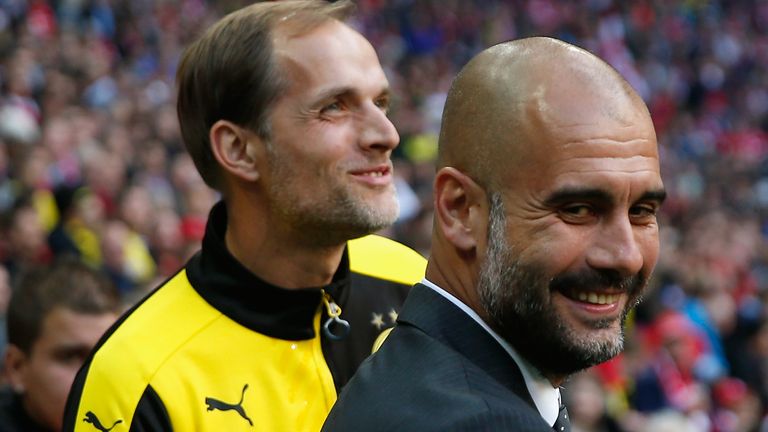 As the author Marti Perarnau wrote in his book Pep Guardiola: The Evolution, Guardiola was "fulsome in his praise" for Tuchel's Dortmund – despite the fact Bayern had just beaten them 5-1 – and arranged to go for dinner together the week after the game.
The two men continued to offer warm words to each other during their public appearances once Tuchel joined Guardiola in England, with the then-Chelsea boss saying: "I have the highest respect for Pep. [His work] is something I hugely admire and this will never change."
But what did change was Tuchel's fortunes against Guardiola following that night in Porto, with City winning both of their Premier League encounters 1-0 during the following season.
While the admiration between the two is clear, Tuchel will no doubt want to re-establish his edge over Guardiola, while the City boss will be keen to continue his supremacy over his rival.
The battle in the dugout promises to add an intriguing dynamic to a fascinating Champions League contest.
Follow Man City vs Bayern Munich on Tuesday on the Sky Sports website and app with our live blog, featuring team news, analysis and live updates.
[ad_2]

Source link