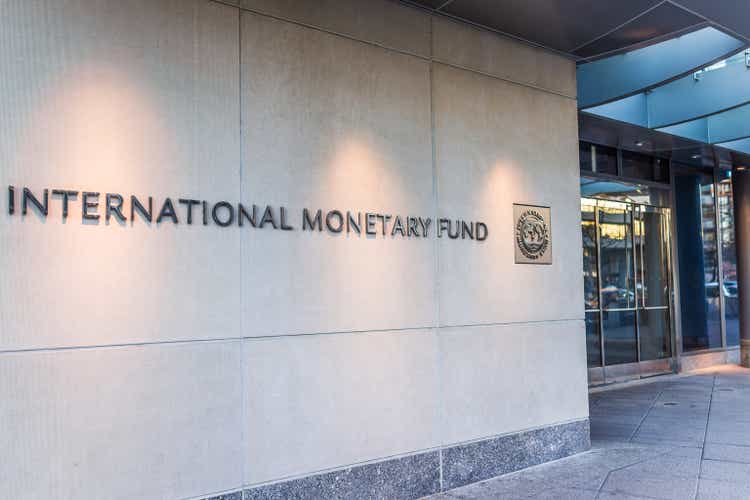 Outright banning cryptocurrency assets (BTC-USD) is not ideal, though such an action still should be taken into consideration, the International Monetary Fund's Executive Board said last week.
Growing crypto adoption "could undermine the effectiveness of monetary policy, circumvent capital flow management measures, and exacerbate fiscal risks," the Fund said in a statement.
That, in addition to "the extra-territorial nature of crypto assets and its providers, as well as the increasing interlinkages with the financial system, motivate the need" for a coordinated policy response among the organization's member countries. Other risks include the impact of crypto on tax collection, monetary policy, and consumer protection.
In citing those "serious concerns," the IMF's 24 directors "generally agreed that crypto assets should not be granted official currency or legal tender status in order to safeguard monetary sovereignty and stability," according to the statement.
Contrary to the IMF's views, El Salvador in 2021 became the world's first country to make bitcoin (BTC-USD) legal tender in that the token can be accepted as a medium of exchange for settling various transactions. At the time, bitcoin, the price of which is exceptionally volatile, was in the midst of an astonishing bull run when it reached a record high of $68.9K, only to sink about 65% to $23.1K as of Friday afternoon.
The IMF later urged the country's government to remove bitcoin's (BTC-USD) status as legal tender, pointing to many of the same risks mentioned above. The move also drove Fitch Ratings to downgrade El Salvador further into junk territory.
"We are bound to see more countries follow" the same footsteps of El Salvador with respect to making bitcoin (BTC-USD) legal tender, Dmitry Ivanov, chief marketing officer at crypto payments ecosystem CoinsPaid, told Seeking Alpha via email. "The IMF is discounting the obvious advantages of adopting BTC as a legal tender that borders on ease of use, lower barriers to entry, and a somewhat code-backed immunity against inflation."
The president of Brazil, the largest economy in Latin America, late last year signed a bill to recognize crypto as a payment method or as an investment in the country.
Despite the IMF's tough stance on the emerging space, its directors noted that regulations should not restrain innovation, and "the public sector could leverage some of the underlying technologies of crypto assets for their public policy objectives," the statement said.
Previously, (Feb. 20) Hong Kong planned to allow retail traders to trade certain digital currencies on listed exchanges in an effort to establish itself as a crypto hub.