In his latest Reporter Notebook, Sky Sports News' Keith Downie discusses the big Newcastle talking points ahead of Sunday's Carabao Cup final.
What's the atmosphere like ahead of the final?
The mood is as you would expect for any team before playing in a cup final, but Newcastle aren't used to the feeling.
They haven't been to Wembley this century. The last time they were there they were beaten comfortably by Sunday's opponents Manchester United. Not since 1999 have they gone into a game knowing they could end it with a trophy in their hands.
There has been excitement and confidence ever since the Saudi-backed takeover of the club was pushed through 16 months ago. The fans can see the team is on the up, and they have been enjoying every moment.
There's been a reconnect and supporters have suddenly engaged again. Every scrap of information or chatter about their team is devoured ravenously. The football team, its manager and his players are the talk of the city's pubs and coffee shops. This reporter can't walk down the street without being asked about transfers, injury news or tickets for the final.
But suddenly silverware is tangible. Eddie Howe told me this week Newcastle's season will be defined by this game. While they don't have to get over the line at Wembley this weekend, it would be a huge shot in the arm to the evolution we have seen ever since Mike Ashley sold up in October 2021.
Newcastle fan Ollie Embleton is given the surprise of his life when former player Rob Lee showed up at his school with tickets for the Carabao Cup final

It's a strange situation. It feels as if there's a lack of pressure from fans because they are safe in the belief that more of these occasions are just around the corner. But on the flip side of that, they have a 68-year itch they are desperate to scratch. The trophy drought has long become hard to bare.
A generation of Newcastle fans haven't experienced what they are about to this weekend, so because of that there's a real excitement in the air. A feeling of the unknown, almost. Those that were there in 1998 and 1999 may have forgotten what it felt like.
The belief isn't quite as high as it was a few weeks ago when Newcastle were beating everyone they faced. The defeat to Liverpool last weekend, coupled with the ridiculous situation that sees them giving a debut to fourth-choice goalkeeper Loris Karius has taken an edge off the confidence. Perhaps that's a good thing. Perhaps Newcastle are more comfortable being the underdogs.
How are the players and Eddie Howe feeling?
Newcastle manager Eddie Howe reveals how his team are feeling ahead of the Carabao Cup final while on a walk with his dog

The players I've spoken to this week appear very relaxed, surprisingly relaxed. Kieran Trippier has been there and done it so I would expect that from him, but Dan Burn and Sean Longstaff were the same. As local lads, they know what is at stake and it feels to me that they are savouring the moment.
They know this is something they have dreamed of their whole lives, something they thought would never happen not so long ago, so it appears they are simply enjoying the journey. As Blyth-born Burn said: "I'm relaxed just now but ask me that question again when I'm walking out of the tunnel at 4pm on Sunday!"
Newcastle's Kieran Trippier will have to deal with the fact his friends and family are all Manchester United fans as they prepare to face each other in the Carabao Cup final on Sunday

I joined manager Eddie Howe for a dog walk with his boxer pup Willis in midweek. It hit me how chilled he was, just a couple of days after learning one of his best players, Nick Pope, was going to miss out on the final through suspension following his dismissal against Liverpool.
Howe stressed that Newcastle have a full week to prepare for the game and I got the impression that for him it was a perfect window to get his message across to the players, Karius included. With Howe and his staff, you know nothing will be left to chance as he looks to lift the first major trophy of his managerial career. Even the contract extension handed out to Karius in January was with this scenario in mind, knowing that Martin Dubravka was cup-tied. And boy was it a good decision.
Will Karius deliver on the big stage this time?
Howe is disappointed for Nick Pope to miss the Carabao Cup final but insists the club's back-up goalkeepers, Karius and Mark Gillespie are ready to play

Howe says Karius is prepped and ready to play, but there is no getting away from the fact that this is a unique situation. A fourth-choice goalkeeper making his debut in a cup final is ridiculous even by Newcastle United's standards.
The 29-year-old wasn't even in attendance at St James' Park last Saturday to watch his team-mate Pope see red, such is his somewhat marginal role at the club. But Pope's suspension means he is set to be handed his gloves in Newcastle's biggest match in a quarter of a century.
Karius hasn't played a competitive match for anyone in exactly two years. He hasn't turned out for an English team for nearly five years when he famously shipped two howlers with Liverpool to hand the Champions League trophy to Real Madrid.
Newcastle's Sean Longstaff is gutted Pope will miss the Carabao Cup final but believes they have great back-up goalkeepers to replace him

The lack of match action will surely be an internal worry to his manager, and Karius will have to be made of stone to not feel at least a slight pang of nerves when he walks out to a packed national stadium in an outing he thought was off the menu.
How the German copes with that, only time will tell. Perhaps this could be the ultimate tale of redemption, and what a story it would be. When I asked him on Tuesday if they were giving the German any extra psychological help, Howe was keen to stress that Karius' mistakes in the 2018 Champions League final were behind him and that he didn't need to take him back there mentally.
What is clear is that the blunders had a hugely negative impact on his career as he never regained his confidence at Liverpool and was shipped out to first Besiktas and then Union Berlin on loan. When he returned to Liverpool last season he sat in the shadows for a year. Perhaps time to think about the past and maybe the future. Perhaps time to dream for a moment like this to present itself.
David James believes Howe will have prepared Karius well ahead of the Carabao Cup final, and believes he has a strong defence in front of him in Newcastle's back four

Mark Gillespie has been seen as a training 'keeper since Eddie Howe arrived at the club, but he is very much an important voice in the dressing room given his Geordie roots. Howe has said a number of times how crucial to the team spirit the likes of Gillespie, Dan Burn, Sean Longstaff and Paul Dummett have been in the Newcastle camp.
As much as Gillespie is seen as a steady pair of hands, Karius was always going to be the pick given his previous experience at the highest level. But there is no getting away from the fact it's an unbelievable situation for Newcastle to be in ahead of their first cup final since 1999 with a pair of goalkeepers who have played two games for the club between them.
Do Newcastle believe they can beat in-form United?
Manchester United manager Erik ten Hag has admitted he is unsure of the fitness of forward Marcus Rashford after his side's clash against Barcelona, but says he is looking forward to playing in the League Cup final against 'annoying' Newcastle

If you'd asked Newcastle this question around Christmas the answer would have been a resounding yes. The form has dipped a bit since then and the team are struggling for goals lately. That is something that will need to return if they are to lift the Carabao Cup on Sunday night.
If you asked them the same question now, the majority would be more unsure whether they can get the better of an in-form United side at Wembley. But there's credit in the bank at Newcastle and a feeling that if they don't do it this time they should go on to finally end their trophy drought in the near future.
Of course, in a one-off game, they have a chance, and the return of Bruno Guimaraes will give the team and their fans a huge boost. While the goalkeeping situation is a real concern, the fact that United played less than 72 hours ago against Barcelona in Europe could be a leveller going into the match.
Howe and his coaching team have had a full week to work with his players to try and iron out the issues of the last few weeks and get his strikers back to peak sharpness. Then it's up to them on Sunday to take their chances.
What selection headaches does Howe face?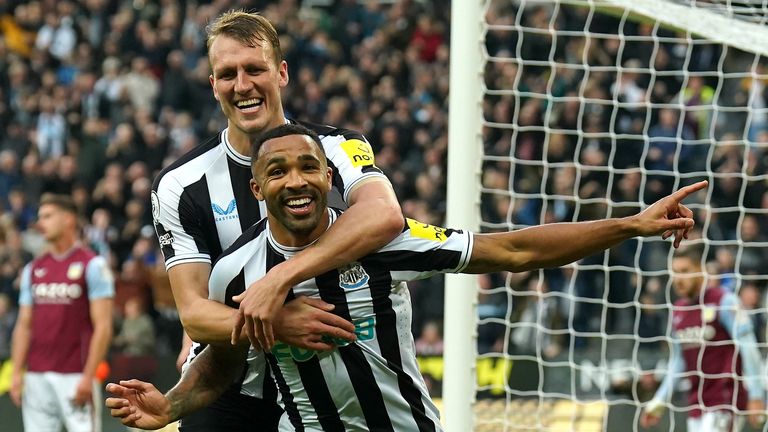 There is very little between Callum Wilson and Alexander Isak when it comes to form at the moment; both players are struggling for goals. But on their day either player can turn it on.
One argument is Isak will love the open spaces to run in behind at Wembley, while another says he does his best work for Newcastle when coming off the bench. In the semi-final first-leg at Southampton his burst down the right and cross gave Newcastle the all-important lead to take to St James' Park.
There's very little between the two and either player could get the nod to play as the central striker. I feel if Wilson is fit then he will start as Howe places a lot of faith in his tried and trusted players. Also, the sight of someone like Isak entering the fray after an hour will not be a welcome one to the United defenders tiring from their efforts on Thursday.
Speaking on The Essential Football Podcast, Nick Wright spoke about the impact Bruno Guimaraes' return could have on Newcastle for the Carabao Cup final

The other decision Howe has to make is on the left-hand side of midfield. Joe Willock has been missing with a hamstring strain and Howe will give him every chance to make his starting XI. His legs and pace in transition has been crucial to Howe's counter-attacking side at times this season.
While Joelinton can play in that role, the Newcastle boss would prefer to move the Brazilian further forward on the left, in front of Willock, which would mean Allan Saint-Maximin would have to settle for a seat on the bench. The Frenchman was excellent against Liverpool last week and is a potential match-winner in a final, but I think that might be one we could see later in the game should Willock pass his fitness test.
Watch Man Utd vs Newcastle on Sunday, live on Sky Sports Football from 3pm; kick-off 4.30pm