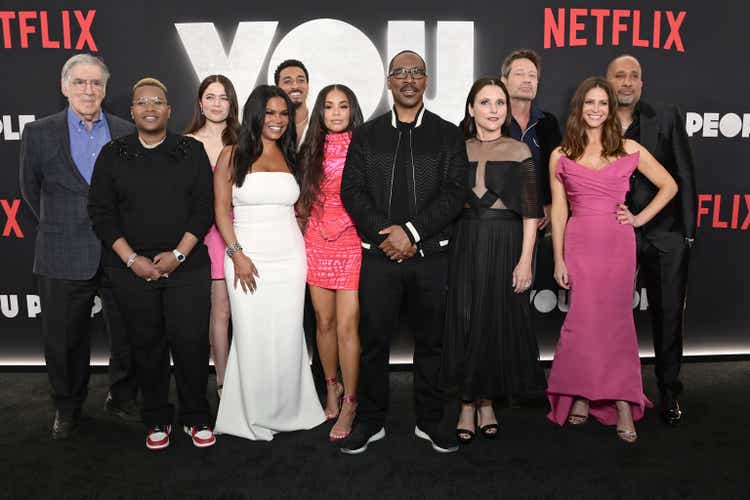 Netflix (NASDAQ:NFLX) kept rolling up hits with its original programming in new streaming ratings, while HBO Max (NASDAQ:WBD) kept riding its latest breakthrough and Peacock (NASDAQ:CMCSA) broke through again.
The ensemble comedy film You People (NFLX) streamed 1.576B minutes and debuted at the top spot in Nielsen's most recent weekly streaming content ratings (for Jan. 23-29). The movie stars Jonah Hill, Lauren London, Eddie Murphy, Julia Louis-Dreyfus, Nia Long and David Duchovny, and it unseated Netflix's previous No. 1, Ginny & Georgia, which streamed a still-strong 1.299B minutes for the interval.
It was part of a Netflix-heavy top five that also included The Walking Dead (1.037B minutes), That '90s Show (963M minutes) and toddler hit CoComelon (929M minutes).
That's where viral (fungal?) HBO Max (WBD) hit The Last of Us landed, at No. 6 after posting its third episode, and streaming 877M minutes for the week. Unlike Netflix programs, the show follows a weekly release schedule, and it built its audience 5% from the week before.
Rounding out the Overall content top 10: No. 7, Shotgun Wedding (AMZN), 872M minutes; No. 8, NCIS (NFLX), 760M minutes; No. 9, The Big Bang Theory (WBD), 641M minutes; and No. 10, Grey's Anatomy (NFLX), 640M minutes.
The Original-series list was topped by Ginny & Georgia and That '90s Show, but Peacock (CMCSA) has another breakthrough, landing Poker Face at No. 3 after its fourth episode, streaming 547M minutes. That list is Netflix-heavy as well, but Amazon Prime Video (AMZN) also placed Tom Clancy's Jack Ryan at No. 9 with 318M minutes.
The Acquired-series chart mostly overlapped with the overall list, though HBO Max (WBD) also added Friends at No. 7 (628M minutes), and Disney+ (DIS) showed up again with Bluey at No. 8 (628M minutes).
And while the Movies chart was topped by You People and Shotgun Wedding, Netflix placed five more films on the list, including the next three entries (Narvik, 421M minutes; Trolls, 239M minutes; and Glass Onion, 238M minutes). Disney+ (DIS) placed Encanto at No. 6 with 208M minutes, and Moana at No. 8 with 170M minutes, and Amazon Prime Video (AMZN) landed Jurassic World Dominion at No. 10 with 166M minutes.
(Nielsen streaming ratings now incorporate viewing from seven major streamers: Amazon Prime Video (AMZN), Apple TV+ (AAPL), Disney+ (DIS), HBO Max (WBD), Hulu (DIS) (CMCSA), Netflix (NFLX) and Peacock (CMCSA).)
[ad_2]

Source link