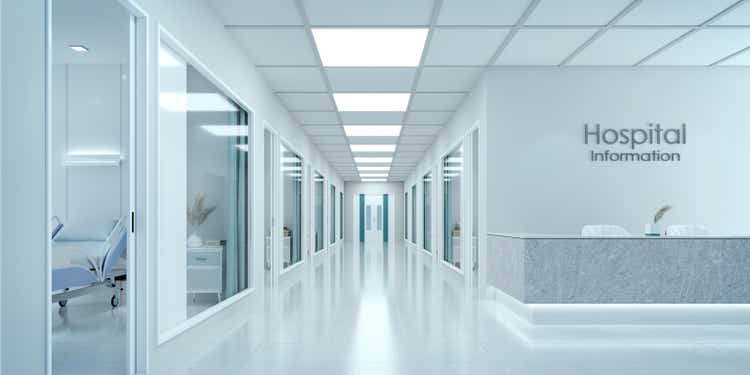 Medical Properties Trust (NYSE:MPW) fell 5.3% on Friday amid a repeated short call from Hedgeye as the firm sees the healthcare REIT as being worth at no more than $3/share and believes the dividend payment is "at risk."
"The stock still trades at an implied ~6.3% net effective cash cap rate," Hedgeye analyst Rob Simone wrote in a note on Friday. "This calculation includes the impact of cash G&A and `capex,` but is also generous in that it gives MPW credit for a ~7% return on that incremental capital investment. We believe MPW should reasonably trade several hundred basis points outside of that number, reflecting the inherent risk of its underlying tenant credit."
The Hedgeye note comes after Medical Properties (MPW) posted in line Q4 results on Thursday, though the company's FFO guidance for 2023 was below consensus. The company's shares tumbled 8.7% and the MPW announced that its chief operating officer would resign effective Sept. 1.
Hedgeye's Simone wrote that he cares less about the "wreck" that was Q4 results and more about the company's pending 10-K filing.
"We continue to view the dividend payout as very much at risk," Simone added. "The current $1.16/share annual payout is completely unsustainable and should be reduced immediately to preserve cash flow and de-lever the entity."
Hedgeye first initiated a short call on Medical Properties Trust (MPW) in April, saying at the time that the company's core business was "deteriorating and grossly overvalued in a base case scenario." MPW shares have dropped ~48% since the Hedgeye call around mid April.
Medical Properties Trust (MPW) didn't immediately respond to a Seeking Alpha email request for comment left after business hours on Sunday.
Medical Properties Trust (MPW) short interest is 17.5%.
Medical Properties Trust (MPW) earlier this month said it will lease its $1.2B Utah hospital portfolio to CommonSpirit Health, following the acquisition of the business currently operated by Steward Health Care System.
Also see SA contributor On the Pulse's item from Sunday entitled "Medical Properties: I Am Buying This 10.4% Yield Despite The Panic."