Liverpool manager Jurgen Klopp believes his side can put their inconsistent form behind them and go on a winning run, saying: "If there's a club who can do it, I really think it's us."
A run of two wins in just seven matches in all competitions has raised more doubts about Klopp's team this season – but they go into Wednesday night's Premier League match against Wolves in seventh place, nine points behind fourth-placed Tottenham with two games in hand.
Liverpool, however, have struggled for consistency all season but Klopp was defiant that the winning run that has eluded them so far can still come.
When asked if there is a feeling of urgency to get on that run with 15 games of the league season to go, Klopp replied: "That's 45 points. That would be a good moment, a really good moment! That's what we want to do.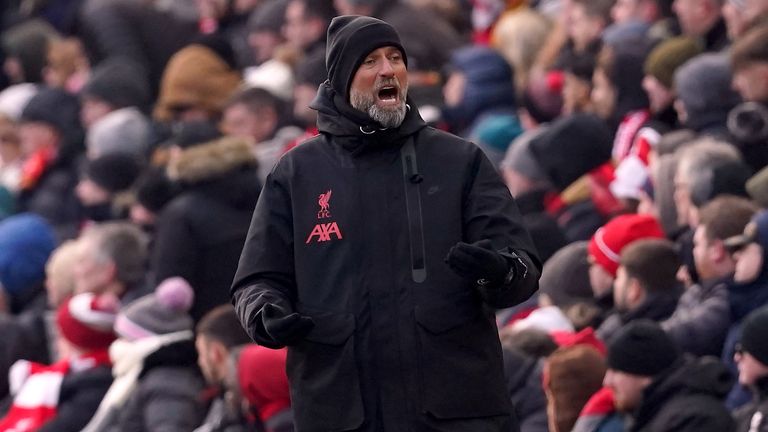 "We have to force it, we have to play and enjoy what we are doing. I really think we are ready. If there's a club who can do it, I really think it's us. Honestly.
"We will strike back in general. But now we have to make sure we squeeze every single thing out of this season that we can.
"I don't know what it will be but the obvious spots aren't too far away from us. We will see which one we can pick up. But there are no alternatives to results: We need results and performances."
Klopp on a 'super-important week'
Liverpool host Wolves at Anfield on Wednesday night in one of those games in hand over Tottenham, before hosting arch-rivals Manchester United in this weekend's Super Sunday encounter.
"It's a super-important week," said Klopp. "We don't need to make it smaller than it is. We have two home games, but tomorrow thank God only one. Not two in one.

Sunday 5th March 4:00pm


Kick off 4:30pm

"I would love to give the season a little push this week. And to get a result you need good performances. Nothing I saw since the last game in training gave the impression that we don't have a chance [to do that]. The few sessions we had looked good.
"I know we all understand, the players as well. We have to give it a proper go in this game tomorrow. It's against a team who we have played more often than any other team this season.
"We know a lot about each other. We know it won't be easy, but that's not the most surprising information. We have to make sure we are ready and I know Anfield will be, then we have to do our part."
Liverpool are also boosted by a near-perfect bill of health. The returns of Virgil van Dijk and Diogo Jota from injury means only Luis Diaz, Joe Gomez Thiago Alcantara are sidelined on the treatment table.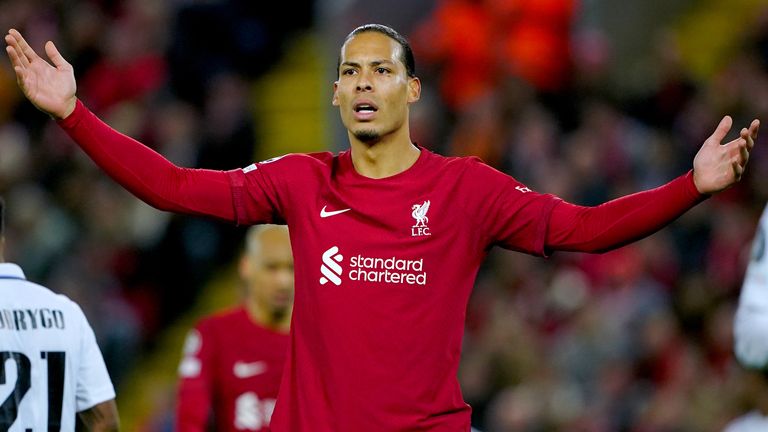 Klopp will welcome back Darwin Nunez and Ibrahima Konate to his squad on Wednesday night, while Diaz is taking part in individual training.
"The most difficult thing is when you have too many injuries and the other players have to play too often and they get injured, when the other players come back," said Klopp.
"We didn't have yet the full squad on the training pitch, but last week it was without Thiago and Lucho [Luis Diaz], so we had 26 players on the pitch without goalkeepers.
"The squad is not too small but we haven't had them together with six, seven, eight players out. Now we don't have that amount and it will be decisively important."
Liverpool manager Jurgen Klopp says that Virgil van Dijk's inclusion in the FIFA Best World XI was fully deserved for his performances and form last season

Redknapp: Liverpool must win against Wolves and Man Utd
Sky Sports pundit Jamie Redknapp believes Liverpool's next two games, both at home to Wolves on Wednesday and rivals Manchester United four days later, are pivotal for their top-four hopes.
"Liverpool's season is almost going to ride on these next two games," he said. "When you identify games as a Liverpool player, they are the ones that can determine a season, especially when you're in a situation where you're a little bit fragile.
"Everything can turn if they win on March 5 (vs Man Utd) and win in midweek. All of a sudden, the top four becomes a realistic ambition, which I still think they can do.
"They've got to win these next two home games. They've got to find that belief and confidence at home, because a little bit will have been knocked away with that [Real Madrid] performance. But they are games that I really believe will make all the difference.
"You can't get into the situation where you've played every single game last year, you've got to the cup finals you got to, and all of a sudden become a bad side. They are damaged, the confidence is low, but I still think they are capable of getting top four with that squad."
[ad_2]

Source link