The Randox Grand National is Corach Rambler's "ticket to greatness" as Lucinda Russell goes in search of her second victory in the world's most famous steeplechase.
The Kinross-based handler is well-versed in preparing one for Aintree. She sent out the late One For Arthur to become only the second Scottish-trained winner of the race in 2017 and nursed her National hero back to his best while many were crying for retirement to finish sixth at the age of 10 in 2019.
Since One For Arthur so memorably landed a telling blow six years ago, only the Covid pandemic has been able to stop the Irish domination on Merseyside.
But now the Scottish handler has the perfect candidate to blunt the challenge from across the Irish Sea in Corach Rambler – the upwardly mobile eight-year-old who finds himself near the top of the betting for the big race following back-to-back victories at the Cheltenham Festival.
"I definitely think he has the qualities," said Russell, when assessing her charge's chances.
"He's got the bravery and he has the desire to race and the will to win. It's up to him and Derek (Fox, jockey) now to see if they take to the fences and keep out of trouble throughout the race.
"I think we saw at Cheltenham that he stays very well and he seems to travel really well as well. Although he gets sort of shuffled back sometimes, I thought he travelled much better this year than he did last year. That certainly gives you hope for Aintree.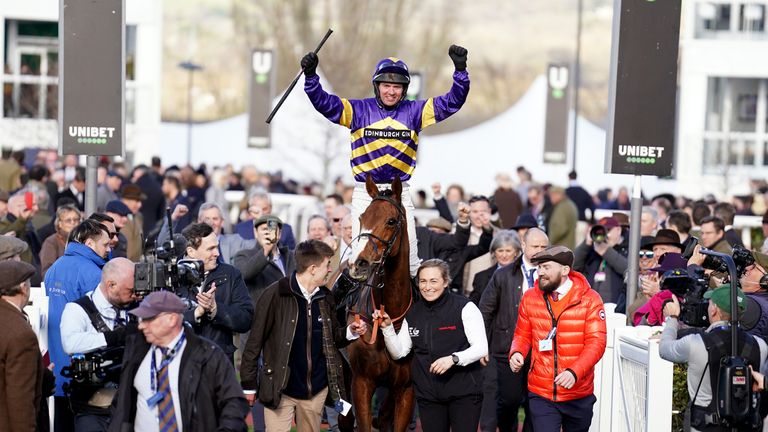 "The big question is will he take to the fences and that will be a bit different for him. But his jumping seems to be one of his assets, it's not that he's extra flamboyant or anything, he's very neat in his jumping. Although he's a bold horse, he's not stupid about things and that bodes well for Aintree."
'He is very close to Scu'
Not only is the dual Ultima winner one of the stars of Russell's rapidly-improving string, but he is also the apple of her partner Peter Scudamore's eye.
Corach Rambler and the former champion jockey are an inseparable pair and with the gelding very much part of the family at Arlary House, the bond between man and horse adds an extra layer of emotion ahead of their tilt at National glory.
"This is going to be very different to One For Arthur because this horse is very close to Scu which adds an extra angle to it," continued Russell.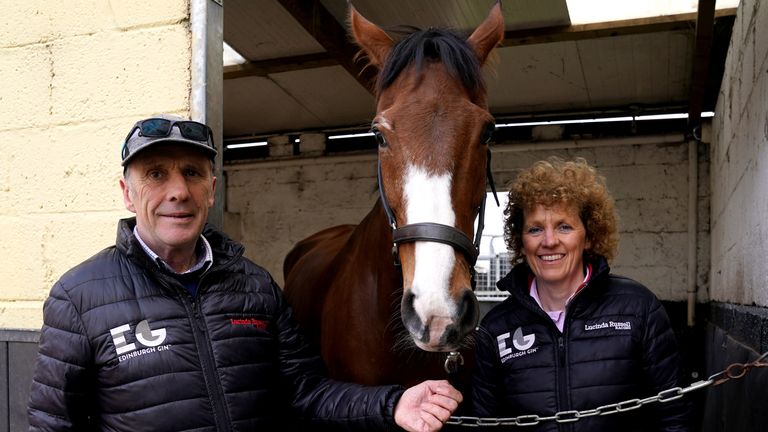 "Arthur was a horse we loved greatly, but it is a bit different when Corach is a horse that you half-invite into the house and is very close to us.
"That will add an extra anxiety to Scu's day definitely, and I'm sure mine as well.
"That makes it even more special and for a horse like Corach, it's his ticket to greatness. He's won twice at the Festival and winning the same race two years running is quite an achievement – but it would be lovely for him if he could add a National."
'He can actually go on most grounds'
It is easy to make comparisons between One For Arthur and this year's contender. Both headed to Liverpool with a rating in the mid-to-late 140s and there are no secrets in the way big-race pilot Fox will navigate the 30 fences – biding his time and hoping to produce Corach Rambler deep into the contest as he did to great success previously.
However, the Kinross-based handler believes Corach Rambler's ground versatility is one huge difference which could prove key on the big day.
She said: "I think we're lucky with that, whereas Arthur was a horse who needed soft ground, and although he handled the good ground, it damaged him in the long run.
"I don't feel that with Corach, I feel he can actually go on most grounds which is quite heartening ahead of a National.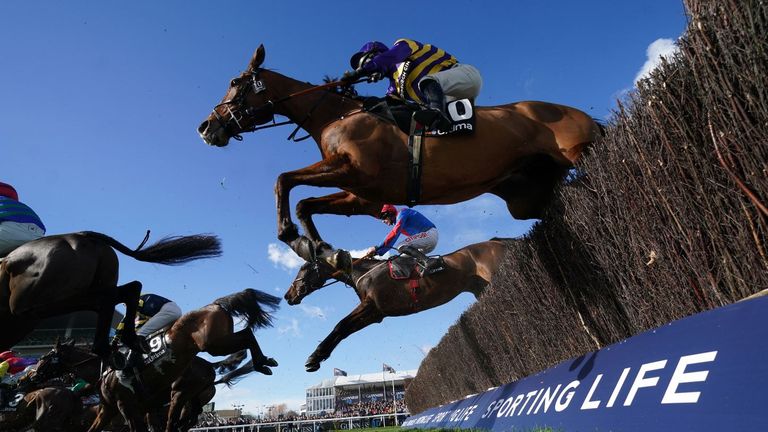 "The ground isn't a problem to him which is a big thing when you are taking on a race like the Grand National, because you never know what conditions are going to be like and you are only aiming at the one race – it's not like you can stop and go somewhere else the next week."
Corach Rambler will race off a mark 2lb lower than that of One For Arthur on Merseyside, but far from careful planning, it is just simple luck and a helping hand from the weather gods that sees the six-time winner line-up 10lb well-in following his win at Prestbury Park.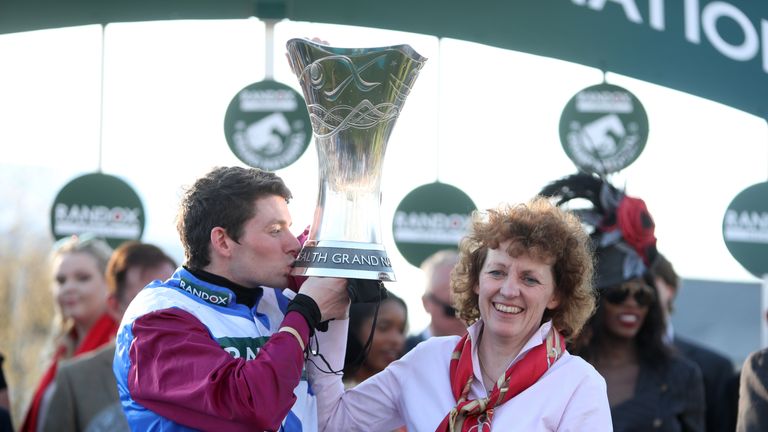 "It's funny how it works out," said Russell. "After Newbury (Coral Gold Cup) we said we'd aim for the National and run one more time, and we kept entering him in all these races.
"We would have run him at Lingfield (on Winter Million weekend) if it had been on and it's probably a good thing he didn't run at Lingfield because he might have gone up in the handicap.
"In the end we look like total geniuses because he's gone up 10lb after the weights have come out due to winning at Cheltenham."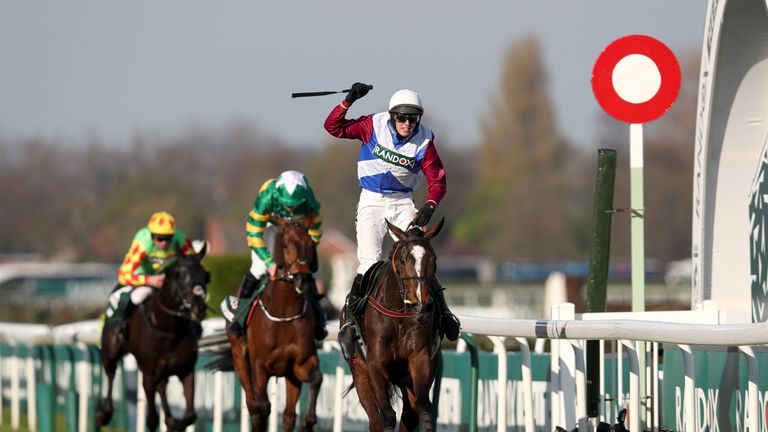 'We get very close to these horses'
One of the endearing features of the Russell-Scudamore operation is the warmth shown by both trainer and assistant towards those housed at the yard.
And despite having total faith in their ability to prepare a horse for the big occasion, the strong connection they share with their inmates means there will be plenty of nerves when Corach Rambler faces the starter at 5.15pm on Saturday.
"It would be slightly different [this year] because we have more confidence and we know how to produce the horses, knowing what it takes to win a National." added Russell.
"But there is still going to be the stress and anxiety of getting the luck in running. We get very close to these horses and in the last couple of years we seem to be getting even closer still because we ride them ourselves and are really hands on, it does add that extra element to it."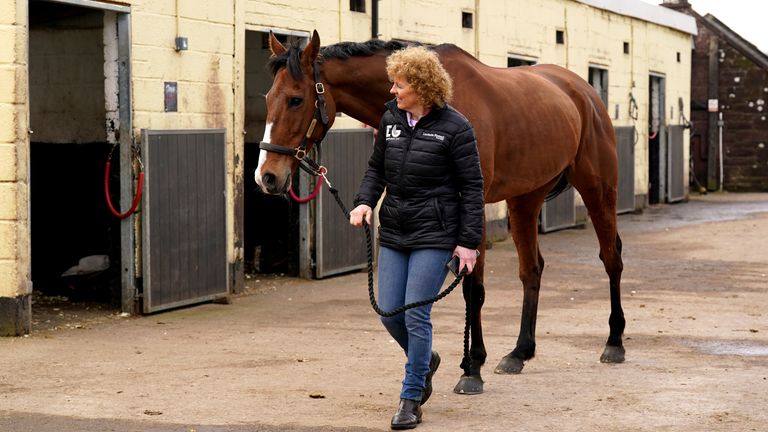 A second National would be the perfect way for Russell to round off a stellar season which has seen her eclipse her previous best campaign numerically.
Scooping the £500,000 first prize would also take her past the £1m prize-money mark for the first time and shows the power the Aintree showpiece has to alter the course of a trainer's journey.
"Arthur was a huge boost for the yard and shot us into people's perceptions and we have been able to build on that," said Russell.
"People say winning a National will change your life and I was kind of in denial, but it genuinely did. It does change your life and it changes your perception of yourself and boosts your own self confidence as much as other peoples.
"The fact we have had a Cheltenham Festival winner this year and have some lovely novice hurdlers that we can't wait to go over fences with next year, the future is looking very rosy, and if we can add a Grand National it would really show what a super season we have had."
[ad_2]

Source link