As the only club to hold a 100-per-cent record when facing Spurs at the Tottenham Hotspur Stadium, Sunday's trip to north London for Chelsea felt like it represented a pivotal moment for Graham Potter.
Help his team maintain that impressive record at the home of their rivals and the manager would go a long way to relieving the pressure upon his shoulders, not to mention winning over the fans who called for his departure after the dispiriting defeat at home to Southampton last weekend.
But, at the same time, it felt like a defeat, coupled with another performance lacking intensity, aggression and – most importantly – goals would ratchet up the noise surrounding Potter's position to unbearable levels.
FREE TO WATCH: Highlights of Tottenham against Chelsea in the Premier League

Unfortunately for the former Brighton boss, the latter scenario is what played out at Tottenham, with Spurs comfortably seeing off the feeble challenge posed by Chelsea as they triumphed 2-0 to end a run of eight matches – spanning nearly five years – without a Premier League win over the Blues.
It is hard to see where Chelsea turn from here. The message coming from Stamford Bridge after the loss to Southampton was that Potter still had the support of Todd Boehly and the rest of Chelsea's owners, but that faith will be pushed to the limit in the wake of yet another hugely disappointing display.
The desire to give their manager time in the job is admirable, particularly given the amount of change Potter has had to cope with, not just in terms of his squad, but also the staff he must work alongside on a daily basis.
But there comes a point where those responsible for hiring and firing managers must ask themselves whether that time has run out, and that preserving the status quo is merely putting off the inevitable course of action.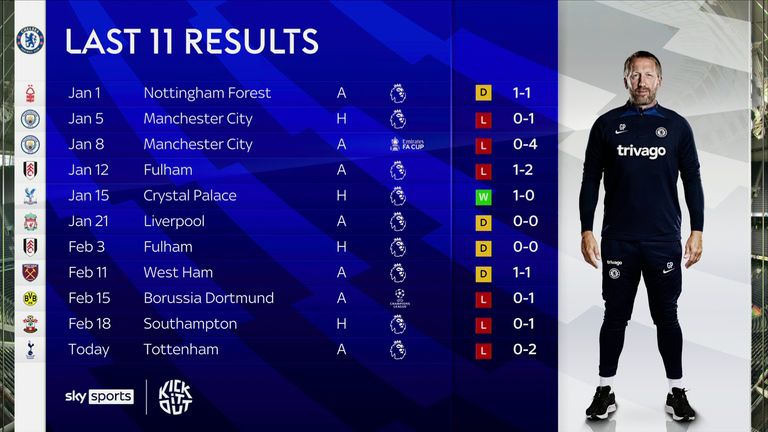 No matter how hard you look, it is hard to see where Potter has improved his team since replacing the popular Thomas Tuchel in September. Chelsea lacked a cutting edge in attack during much of the second half of the German's time in charge, but Potter has taken that profligacy to new levels.
Remarkably, Chelsea have scored just six goals in all competitions since November 6 – the fewest of any side in the top four tiers of English football and 40 fewer than Manchester United have produced in the same period of time.
Potter has also failed to replicate Tuchel's ability to produce strong performances and results in the biggest games, with Chelsea 24 matches into the league season yet still without a win against any top-half side.
Potter's struggles are not for the want of trying, with Chelsea making an average of 3.9 changes to their side per Premier League game – the joint-highest rate of any team in the competition's history.
The suggestion would be that the 47-year-old does not know his best XI, although it is hard not to empathise with Potter in this respect, given the injuries he has had to contend with and the exceptional number of players that have been added to Chelsea's squad since the new owners arrived.
However, those new players – 19 in total, signed for a total of more than £600m – were some of the most sought-after in Europe and were brought in to improve the squad, but that has failed to happen.
In fact, since the January transfer window opened, Potter has overseen one win in 11 games in all competitions, with his side scoring just four goals in that time. Despite the spending, Chelsea continue to get worse.
The west Londoners are now closer to the relegation zone than the top four and have surely waved goodbye to their hopes of qualifying for the Champions League, with Tottenham now 14 points ahead of their 10th-placed rivals in fourth.
Boehly and his fellow investors did not imagine this scenario when they recruited Potter five months ago, and nor would they have anticipated the strength of feeling from the supporters against the man they hired to spearhead the club's new era.
Chelsea fans have never really taken to Potter. Their unhappiness at the sacking of Tuchel has played a part, as has the Englishman's perceived lack of charisma compared to his predecessors at Stamford Bridge.
But after remaining apathetic towards Potter during much of reign, it felt as though the tide turned once Southampton left west London with all three points, with calls for his exit raining down from the stands.
With yet another defeat – against Tottenham of all teams, the side Chelsea used to pride themselves on beating – Potter feels further away than ever from proving he is the right man for the job.
Potter: I haven't done much to earn faith
Following the 2-0 defeat to Tottenham, Potter said Chelsea's form is down to him and was very supportive of his squad who he believes are trying their best to turn around their tough situation

Graham Potter admitted after defeat at Tottenham that he had not produced enough at Chelsea to deserve an unlimited amount of support, but likened his situation to that experienced by Mikel Arteta and Jurgen Klopp at Arsenal and Liverpool, respectively.
Asked whether he felt Boehly's support would evaporate after yet another loss, Potter admitted: "There's always that question, absolutely, and you can't stop the questions, and whilst the results are like they are then I accept it – it's part of the job.
"We were talking before the game about watching the Arsenal All or Nothing [documentary] and two years into Mikel's reign he's close to getting the sack and people are wanting him out and it's a disaster. Obviously now things have changed a little bit, but that's just the way it is.
"If you look at Jurgen's situation, they haven't got the results and all of a sudden people want him out.
"That's just the nature of football and obviously I haven't done enough at this club to have too much good faith and I also accept that as well. My job is to not worry too much about that.
"I understand the question and totally understand where it comes from, and just try to focus on helping the team and supporting the players because I really like these players. They're good lads, they want to do better, they want to win but at the moment we're suffering and that's my responsibility."
Hasselbaink: Players letting Potter down
Former Chelsea striker Jimmy Floyd Hasselbaink believes under-pressure Potter will retain the board's support despite the poor run of form – but says he must deliver in their next game against Leeds on Saturday at Stamford Bridge.
He told Sky Sports: "When you are at a big club, and that is Chelsea, when you lose two games in a row, that is the majority of the time already a crisis.
"These owners have come in and they want to go in a different direction and do this project. Potter is their man, so they are going to give him as much time as possible. But they will also expect something back. He is under pressure. That is what happens at big clubs.
"It's the nature of the game. The only way he's going to be able to control it is by winning his next game against Leeds.
"It's good to hear that they are together and that it is a project and they are going to stick together. But on the other hand, as a manager of Chelsea, you also need to give something. You need to buy yourself time. And that means you need to have some kind of results.
"At the moment, the results are not there, so the pressure on top of it is only going to get more."
Hasselbaink also believes the players are letting Potter down with their lack of commitment and feeling sorry for themselves.
"The Chelsea fans over the last 20 years have been spoiled with a lot of wins," he added. "A lot of trophies and playing all the time at the top of the league.
"This year it's different. Yes, they are starting all over. You could see Thiago Silva, the most senior player, when he comes off, it falls apart a little bit, because the team is very young. And when something goes wrong, you can see that certain individuals feel a little bit sorry for themselves. That's the feeling that I get.
"That is where they need to step out of it, as quickly as possible, because they can still get sixth or seventh and get into Europe. They need to realise that the commitment needs to be for 95 minutes, not just for 20 minutes."
[ad_2]

Source link