"From whiners to winners" – that's how Gary Neville described Manchester United's transformation under Erik ten Hag after their Carabao Cup final win.
United ended their six-year trophy drought as they beat Newcastle 2-0 at Wembley on Sunday.
Casemiro scored the opener for Ten Hag's side at Wembley and they doubled their lead before the break via a Sven Botman own goal.
Neville said at full-time: "It's about one man that has transformed a team from whiners into winners – what a job Erik ten Hag has done.
"Players are out there that shouldn't have played for Manchester United again but they are performing at a high level. They have a spirit and a fight. There is a real chance of winning trophies beyond this. He makes good decisions in matches – his subs were critical in making sure they saw this game out. It's been a brilliant last few months."
Highlights of the Carabao Cup final between Manchester United and Newcastle at Wembley

Neville added: "At the end of last season, some of those players were part of a team labelled a disgrace by me and other Man Utd fans. It was horrible to watch. They were divided.
"The turnaround is transformational. It's unbelievable what Erik ten Hag has done.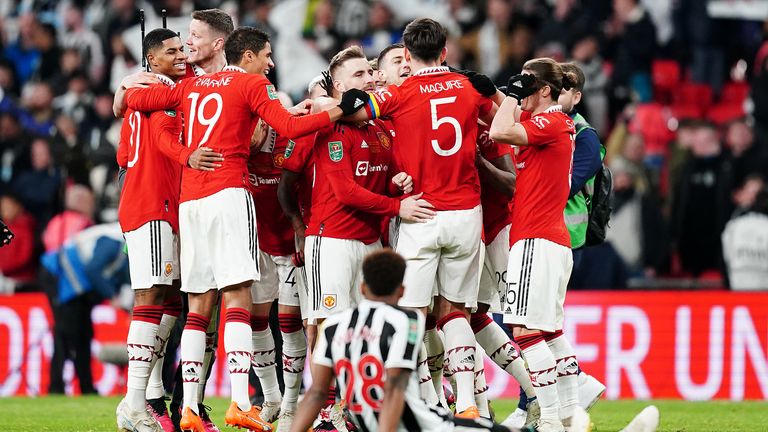 "From 2003 and 2006, we didn't win a trophy and you feel like you're never going to win a league again, or you're not going to be up there again.
"This trophy was the catalyst for feeling confident and putting belief into the squad.
"This squad will be dangerous with a medal around their neck because you like to think Erik ten Hag is going to improve them again in the next 12 to 18 months.
"They're not close to Arsenal or Man City, that's clear, but where they are and what they're doing is something I never would have imagined six months ago.
"The fans love this team. You can hear the cheer the fans gave Ten Hag – they love him. When he lifted the trophy there was no doubt who the fans think is the most important person."
Keane: This is what playing for Man Utd is all about
Sky Sports' Roy Keane:
"Erik ten Hag was brought in to try and rebuild the club, get them to compete a bit more.
"What's gone on in the last few years, I've been really critical, I disliked what they stood for. They weren't a team, they weren't together, issues on and off the pitch, but what the manager's done in a short space of time is fantastic.
"They've recruited well, they've got a spirit. They weren't at their best today but they won a football match and the fans appreciate that.
"There's a lot of hard work ahead, the players have got to use this as a springboard to get more trophies over the next few years, that's what it's about playing for Man Utd."
Manchester United now turn their attentions to the FA Cup, with West Ham visiting Old Trafford on Wednesday; kick-off 7.45pm. Erik ten Hag's side then face another huge match on Sunday when they take on Liverpool at Anfield in the Premier League, live on Sky Sports; kick-off 4.30pm.
Newcastle's next game is at champions Manchester City on Saturday; kick-off 12.30pm. Eddie Howe's side then host Wolves on Sunday March 12, live on Sky Sports; kick-off 4.30pm.
[ad_2]

Source link