It now seems a fooling of the mind, an altogether alien planet in which Erik ten Hag was being framed in the same context as Frank de Boer, writes Melissa Reddy.
After brutal Premier League beatings by Brighton and Brentford in his opening games in charge of Manchester United, there were betting markets offering odds on whether the former Ajax boss would be sacked faster than De Boer's 77 days at Crystal Palace.
Ten Hag was the first manager to lose each of his first two matches in United's dugout since John Chapman in 1921. The numbers were ugly, the club were bottom of the table, and the long knives were out.
Ten Hag, however, was unflustered. As detailed previously on Sky Sports News, staff close to him at Carrington believe the Dutchman's greatest strength is how he reacts in dark moments.
Manchester United manager Erik ten Hag speaks about the legacy Sir Alex Ferguson left behind and how he hopes his side can make him proud in the final

When he was being questioned and ridiculed in August, the 53-year-old offered a powerful response. "I wanted this challenge," Ten Hag said, adding: "In my career everywhere, the start was difficult but I got it done – and I'm convinced I will get it done here as well."
The players felt his credence, backed his process, and responded by slaying Liverpool 2-1 in a performance Bruno Fernandes underlined as "the turnaround".
The Portugal international and other senior members of the squad have spotlighted Ten Hag's authority and surety in his methods as a core driver behind United being the only team in Europe's major leagues in the mix for four trophies.
The manager has been consistent in his refusal to sway from implementing the highest standards and a culture of excellence at the club: Alejandro Garnacho was late for a meeting during pre-season and did not feature for the rest of the tour, the in-form Marcus Rashford was also dropped for tardiness and Cristiano Ronaldo was axed altogether for constantly putting himself ahead of United.
It doesn't matter who you are, it is Ten Hag's way or you wave goodbye.
The sternness is meshed with softness, as seen in his caring handling of Jadon Sancho and the help in getting him to rediscover his focus and love for the game.
Perhaps the best encapsulation of Ten Hag's warmth and ice is how he mingles with staff from different departments in the canteen at Carrington, beaming at hearing insights about their home life before asking them a poser about the job.
Manchester United manager Erik ten Hag has admitted he is unsure of the fitness of forward Marcus Rashford after his side's clash against Barcelona, but says he is looking forward to the Carabao Cup final against 'annoying' Newcastle

"You have to be sharp, you have to be up to date with what's going on in your area because he will ask you," as explained by one employee. "And he wants details." This can stretch to which kit United are wearing away from home and what the win ratio is in it.
Ten Hag subscribes to the specifics, from the measurement of training cone distances to how long a player has been in the ice bath.
He believes every action counts and there is an edge in the smallest habits – like his pitch inspections.
Ten Hag's surveying of the surface home and away feeds into his tactical planning, but he may spend extra time examining a Wembley turf he's only ever seen on TV.
Ahead of the Carabao Cup final against Newcastle, his first crack at winning silverware in England, he sat down with Sky Sports News to talk about restoring a faded giant and the excitement of turning out at the country's "theatre."

Sunday 26th February 3:00pm


Kick off 4:30pm

Erik, your first time at Wembley is an opportunity to lead Manchester United to silverware. Not a bad visit…
"It's a great moment I to go to Wembley. I think. It's a real theatre to play a game, to play a final. It's really exciting to go there. And of course if you go there, you want to win and it's a big day for us."
As a manager, do you still get that excitement over things like that? Visiting a new stadium?
"Yeah. Still as well. But every match gives excitement, of course there are differences between them. And so I had the experience now to go to a different league and that is great. To get experience of a different culture and different stadiums that is great to have that in your life and it makes life exciting. So Sunday, I'm really looking forward to going to the stadium. It's so well known, but I only know it from television. Sunday I have to experience it for myself and I'm really looking forward to it."
Can you remember which was your favourite match you watched on TV at Wembley?
"Oh, I think it was one, probably the Dutch national team against England. Huge games are always played there. I have seen also many FA Cups. I remember from my childhood that I always watched the FA Cup final so I have seen many of them."
FREE TO WATCH: Highlights from Manchester United's win against Leicester

You spoke about the experience of coming into a new league, experiencing a new culture. One of the things I've found with you is you're obviously quite proud and honoured to be Manchester United manager, but you've really taken to the area as well. We see you cycling around Hale, going out for meals in the city centre, meeting with Sir Alex Ferguson in Wilmslow. It's not just about the club, it's about embracing the community, the people, the area…
"Yeah. But that is my opinion of life. When you are coming in a different place – and I think that is what you want in your life: new adventures. You have to adapt to the situations, to the people, to the standards and values. First you have to learn them and to get knowledge of them. So yeah, go into the culture, go into the countryside, go into the city centre and find out."
That's lovely. And that's the personal element. Professionally, what have you found are the biggest differences coming into this league and being a part of English football?
"Football is obviously everywhere. The same is 11 against 11, but yeah, the way the game is played here is different. What is so exciting is that you, your philosophy, your strategy, you have to find out if it works out here. But therefore you have to put a lot of energy in to find out how to find ways to win."
Your strategy is working out because look at Manchester United, alive in all four competitions. The players are feeling confident again. They're showing different ways to win. It's come on so quickly. Are you proud of the way the group and the fans have embraced your ideals?
"Proud. I don't think it's the right word. No. Proud I would be of course when we are acting as a team, because you don't think it's so normal, you have to work really hard for it.
"But then you are really proud when you're winning trophies with a team and you do it in a way the people like, and that the people see there's a good spirit, there's a good fight in a team, and they want to play in a proactive way, in a dynamic way. And if that, then the fans embrace it. Yeah, that will make me proud."
We talk about togetherness. You've just mentioned it there. One of the scenes after the winner against Barcelona at Old Trafford was Casemiro and Raphael Varane, who have won so many major trophies in their career, celebrating a Europa League play-off victory like it was the biggest thing in the world with the fans. Does that show you how much the players want success for this football club that they're treating every game so seriously and with that desire to do better?
"I think it tells a lot about them, about their personalities and also why they won so much and why we want them in our team, because they know the pathway to win. And they are so strong personalities and they are so happy with every win because they know it's not normal.
A look back at some of the best goals from the 2022/23 Carabao Cup season.

"You have to work very hard for it. You have to put a lot of effort in to beat big opponents. And so now, for instance, Sunday, another big opponent is facing us, and we have to find a way to win, but it's not going to be easy. And you have to give everything with everything. I mean even a hundred per cent is not enough. You have to put in more, so physical, but also as a team, act as a team, and then you have to find the way to win. And if then it happens you are they are so happy, but they know how to get it. They know.
"So the pathway to win, and I'm sure they are the example for many of our players. They have Rapha and Casemiro in the team to help to get the right lifestyle, the right attitude to win the trophies."
You spoke about the opponents there, Newcastle, and we've focused a lot about your transformation of Manchester United, but what Eddie Howe is doing there is remarkable. What are you expecting from them?
"It's a difficult game. It's a difficult opponent. They are so difficult to beat and it's a big compliment for them, but we have to find a way to beat them and no matter what. And so we put all the effort in. I have all the respect for the opponent and what the manager, Howe is doing. It is great to see from the outside. And you see also there is a real team and good team spirit. So yeah, it's gonna be a great game between two really good teams."
You speak about finding a way to win. They're quite hard to break down. United tend to enjoy when there's space to run in behind and stuff. So what is the solution for those teams that defend deeper?
"I think we already had some examples this season and we know ways. That is so great to be here in this Premier League, in this England football culture because you face so many styles and every time you have to find a way to win, find the pathway to beat them. And there are many tools to beat them. And we will see Sunday, which one we pick."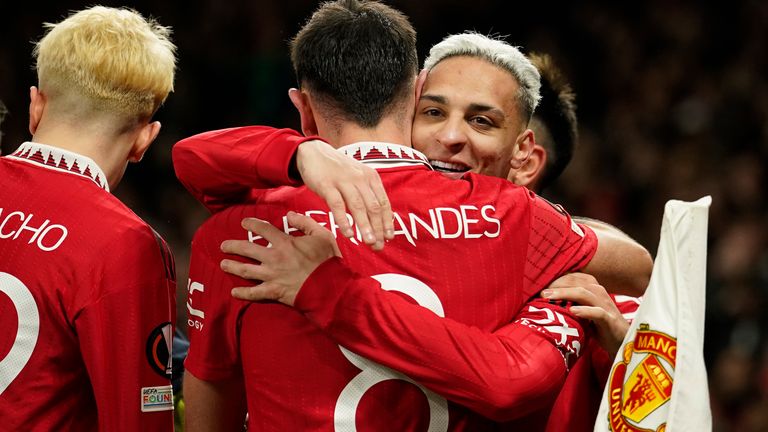 Does your preparation change at all for a final? Does your messaging change to the players or do you like to keep consistency in everything you do in terms of the training patterns, recovery patterns…
"A lot of things we keep the same for the consistency. But yeah, it's a final, so it needs something special. We will put something special in."
Are you going to have another dinner with Sir Alex Ferguson then?
"We unfortunately don't have time for that because the time is too short."
Can you share what's the best message he's given to you?
"He is by doing (not words). I think he left a legacy and that is Manchester United stands for winning and a winning culture. I think he's such a great example for all of us, for humanity, but for all of us around and in Manchester United, he's such a big example and we hope that we can make him proud on Sunday."
Watch the Carabao Cup final live on Sky Sports Football from 3pm on Sunday; kick-off 4.30pm
[ad_2]

Source link