Cameron Norrie and Carlos Alcaraz won semi-final matches on Saturday to set up their second straight final at the Rio Open. 
The top-seeded players in the clay court tournament also clashed last weekend in the final of the Argentina Open, which Alcaraz won in straight sets.
Norrie needed two and a half hours to beat Bernabe Zapata Miralles 6-2, 3-6, 7-6 (7-3) and will play his third final of the year.
In the deciding set, Norrie saved a break point in the fifth game, broke the Spaniard in the sixth but was forced to a tiebreak. His stronger first service made the difference.
"I tried to finish the points a little bit too early. I was a bit overconfident," Norrie said.
Asked what he needs to do differently from the finals in Buenos Aires and Auckland, which he lost to Alcaraz and Richard Gasquet, Norrie said: "I have to play better in the big moments."
Norrie currently leads the tour in wins in 2023, with 17 victories and three losses.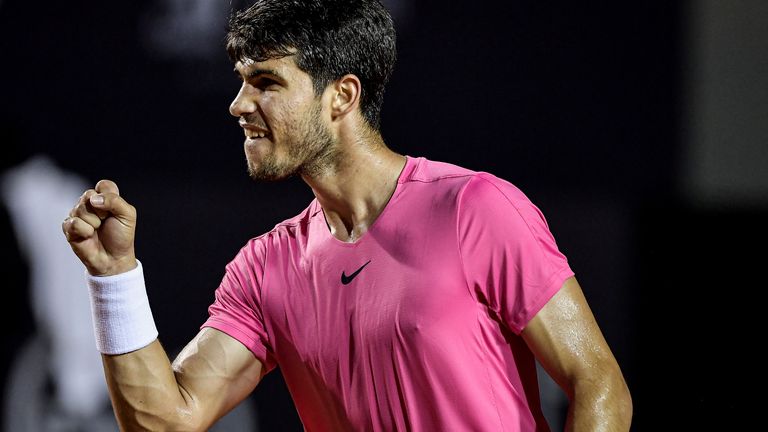 If Alcaraz wins the final he will not only defend his title in Brazil, but also tie Novak Djokovic in points on the top of the ranking – the Serbian would still be No1 due to other results.
The Spaniard worked hard to beat Nicolas Jarry 6-7 (2), 7-5, 6-0, dropping only his second set of the tournament.
The 19-year-old Spaniard was in trouble with the Chilean's effective service in the first two sets, but showed he had more energy in the third.
Alcaraz blanked Jarry in the final set with a dominant performance.
"Nico has great power, an incredible service and he has shots to make any player's life difficult," Alcaraz said of Jarry after the match, where until the end of the second set his Chilean opponent had won almost 90 per cent of the points after his first service.
"I am not going to do anything different (from the Buenos Aires final against Norrie). I think he will, and I will debate that with my team tomorrow."
[ad_2]

Source link