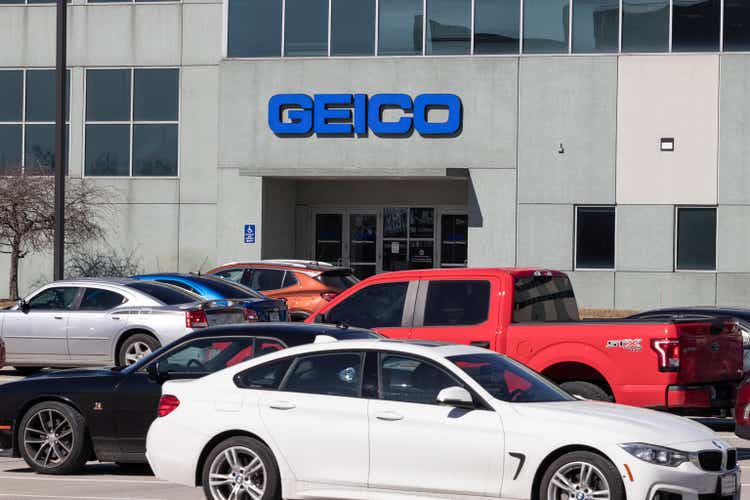 Berkshire Hathaway's (NYSE:BRK.B) (NYSE:BRK.A) Geico insurance unit posted pretax underwriting loss of $1.88B in 2022 as customers filed more claims and the severity of accidents increased, the company said Saturday in its 10-K filing.
That compared with pretax underwriting gains of $1.26B in 2021 and $3.43B in 2020, when accident claims were lower than usual as people drove less, especially in the early part of the COVID-19 pandemic.
Inflation also contributed to the 2022 underwriting loss. "Increases in used car prices are producing increased claims severities on total losses and shortages of car parts are contributing to elevated claims severities on partial losses," the company said. "In addition, injury claims severities continued to trend higher in 2022."
Premiums written increased 1.9% to $39.1B from $38.4B in 2021, reflecting increases in average premiums per auto policy due to rate increases, which were substantially offset by a decline in policies-in-force, the company said. Voluntary auto policies-in-force dropped 8.9% in 2022, while average premiums per voluntary auto policy rose 11.3%, the company said.
Losses and loss adjustment expenses rose to $36.3B in 2022 vs. $31.0B in 2021. Loss ratio was 93.1%, an increase of 10.9 percentage points from 2021.
Underwriting expenses of $4.57B fell from $5.45B, on lower advertising costs and lower employee-related costs.
Earlier, Berkshire Hathaway (BRK.B) Q4 operating earnings slip Y/Y, stock buybacks jump
[ad_2]

Source link