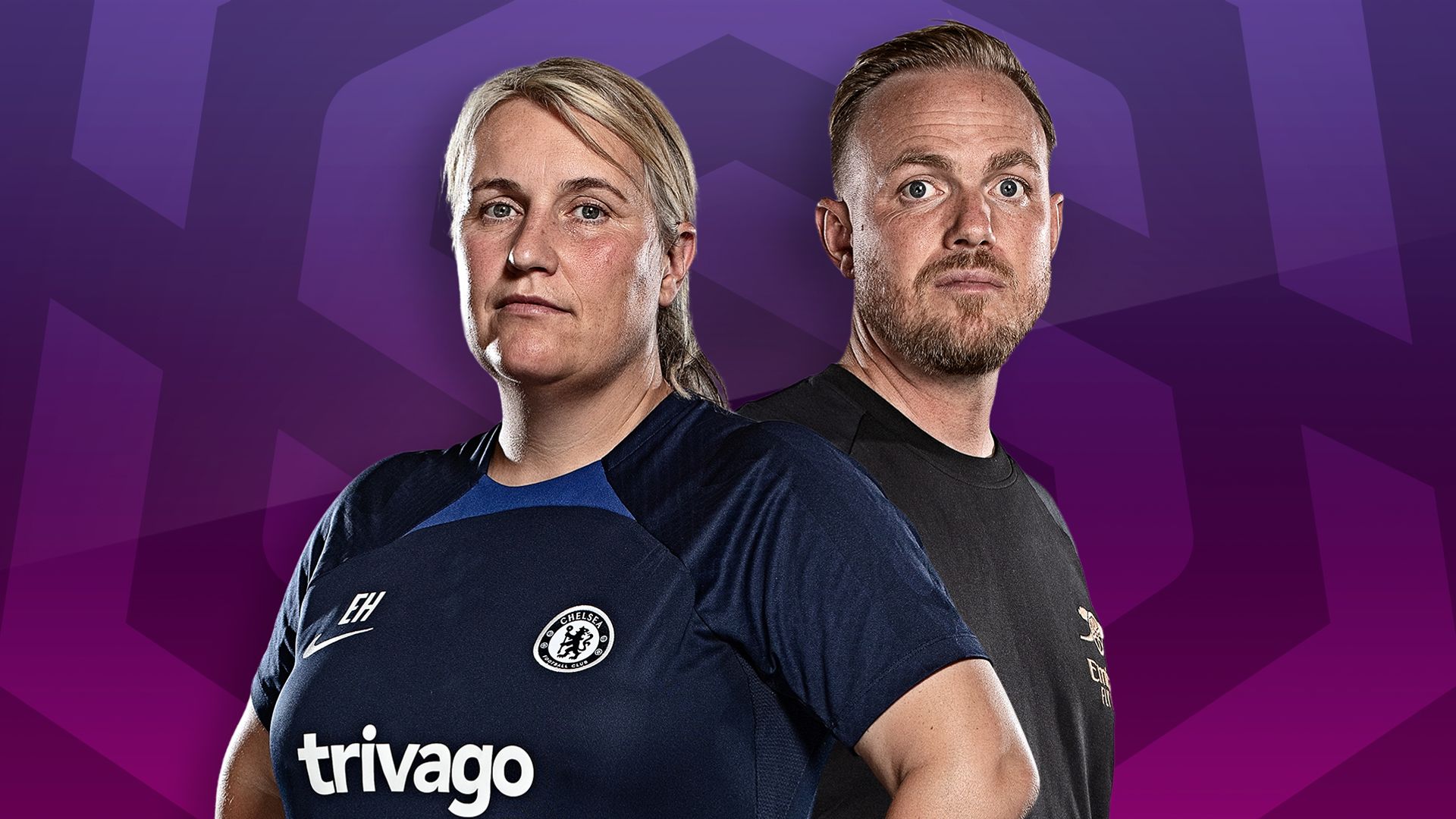 Emma Hayes' Chelsea have a tough schedule to manage this March. So do Jonas Eidevall's Arsenal. The challenge? Six games, 25 days, three different competitions. It begins with a match-up in the fifth round of the FA Cup on Sunday, and from there on the games keep coming.
Chelsea's March Schedule
Arsenal (H) Sunday March 5
Brighton (H) Wednesday March 8
Manchester United (H) Sunday March 12
Lyon (A) Wednesday March 22
Manchester City (A) Sunday March 26
Lyon (H) Thursday March 30
Arsenal's March Schedule
Chelsea (A) Sunday March 5
Liverpool (H) Wednesday March 8
Reading (H) Sunday March 12
Bayern Munich (A) Tuesday March 21
Tottenham (A) Saturday March 25
Bayern Munich (H) Wednesday March 29
What Chelsea's squad rotation could look like
This season Chelsea have operated in two varying modes: a possession-based style of football, and high-press counter-attacking.
The former involves a back three in a 3-4-3 shape that has seen Millie Bright, Kadeisha Buchanan and Magda Eriksson all feature.
Sophie Ingle and Erin Cuthbert, the Blues' more defensive midfield pairing, are then joined by Guro Reiten and either one of Melanie Leupolz or Jelena Cankovic in the No 8 position.
The roles and responsibilities get more intriguing when the team shifts into a a 4-2-3-1 formation. The back three turns into a four, with Eve Perisset replacing Niamh Charles.
Eriksson fills in the most unorthodox role as a makeshift left-back. Chelsea's midfield two of Cuthbert and Ingle can then establish a degree of stability and allow the attackers further up to roam unencumbered.
Currently, those attackers are Lauren James and Sam Kerr. Pernille Harder has been sidelined with a long-term hamstring injury while Francesca Kirby's involvements remain dependent on day-to-day evaluations.
What Arsenal's squad rotation could look like
The absence of Beth Mead and Vivianne Miedema has put a significant dent in Arsenal's title hopes this season. Combine that with the fact that moves for Alessia Russo and Signe Bruun failed to materialise and it's clear their attack is understaffed.
Last season's counter-attacking unit now relies on Stina Blackstenius as the most forward of the attackers in a 3-4-3 shape, while the likes of Caitlin Foord and Kim Little sit in a midfield four alongside Frida Maanum and Noelle Maritz.
In defence, a back three of Leah Williamson, Lotte Wubben-Moy and Carvalho Souza has been the preference. Yet that did nothing for the side in their 2-1 defeat to Manchester City two weekends ago and Eidevall was quick to change into a back four after half-time.
Lia Walti and Katie McCabe came on for Wubben-Moy and Foord, and almost instantly the Gunners scored. Expect similar shifts in midfield across the next month.
Where Chelsea might excel
The depth to Chelsea's interchangeable attack remains their strongest asset, and it'll be even more pivotal in the next month of games.
Leading that pack is the resurgent James who has been in devastating form with seven goals and three assists in all competitions this season.
She's not alone either. Surrounded by Kerr, Reiten and at times, Kirby, the Blues provide opposition defences with a counter-attack so blisteringly fast that you might miss it if you blink.
Where Arsenal might excel
Though the transfer window failed to assist them, Eidevall only has to look inwards to find his source of goals: Foord.
The Australian international has already proved herself as a reliable source of goals, with four in this season's Champions League.
Where Chelsea might trip up
Things haven't looked entirely streamlined for the Blues. Ever since their shock opening day 2-1 defeat to Liverpool, it's fair to say that there are still a few defensive kinks that need to be ironed out, starting with the flanks.
So far, Charles has been shoehorned in on the right. But for all her niftiness, the 23-year-old lacks a certain finesse. The obvious replacement is Perisset who was part of Chelsea's big summer plunder, but her game time has been limited due to injury-related absences.
On the left, the Eriksson saga provides more cause for concern. Hayes including her in a back three is an attempt to give the Blues slightly more protection, but lack of pace is the Swedish international's weakness and against the likes of Manchester United's Nikita Parris and Delphine Cascarino of Lyon it could snowball into a bigger problem.
Buchanan also warrants a mention. She has been the obvious fit alongside Bright and Eriksson, but her inconsistencies in performance leave much to be pondered.
All in all, it's clear that the team builds up much better in a 4-2-3-1 formation. But will Hayes' stick, or twist?
Where Arsenal might trip up
The lack of final product is glaring, especially given how mesmeric the Gunners attack looked this time last year.
As much as Blackstenius has attempted to be a penetrative force, the goals are still yet to flow, evident in the fact that her team have only won two out of a possible nine points since the beginning of 2023.
Pair that with the fact that they, just like Chelsea, are still figuring out how best to manage a back three, and there's plenty of potholes to trip over on their way across this six-game venture.
On load management
It wasn't so long ago that chief executive of the Professional Footballers' Association Maheta Molango spoke out against the volume of games players were being put through in the Premier League.
"This is not a shoe factory," Molango said "you're talking about human beings and sometimes I get the feeling that we are moving in the direction that footballers are just machines". Hayes and Eidevall have both echoed that sentiment plenty of times.
Long-term, anterior cruciate ligament injuries have been at an all-time high this year. Although studies have pointed to more skeletal and biological causes, the sheer influx of fixtures can't be helping.
Both bosses have always managed their players carefully, where possible listening to athletes who have the best insight into their bodies.
Hayes has made that clear through her management of players with more complex injuries. She rested James for an entire season to help her regain her fitness, and the 21-year-old is now arguably the best player in the league. Leupolz is also another great case.
The German international has only recently returned from giving birth in March and the Blues made sure she was supported all the way through her maternity leave, as well as ensuring she received a tailored return to training.
Meanwhile Eidevall continues to ensure both Mead and Miedema get the best treatment to put them on a speedy path of recovery.
Keep your eyes peeled on how the Blues fare over the rest of the season live on Sky, with games available across Sky's flagship channels, including Sky Sports Premier League, Sky Sports Football and Sky Sports Main Event.
You can also keep up with the latest WSL news on 'Inside the WSL', hosted by award-winning broadcaster and journalist Jessica Creighton.
[ad_2]

Source link