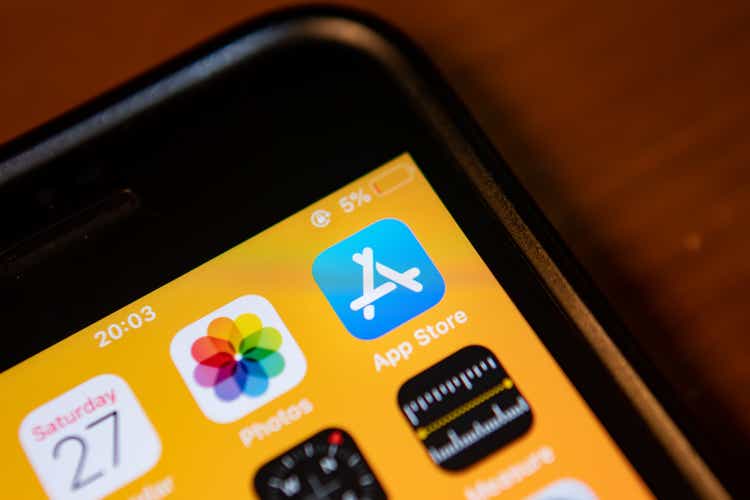 Apple (NASDAQ:AAPL) generates a significant portion of its overall revenue from its services business, including $78.1B in its 2022 fiscal year, and an all-time quarterly record of $20.8B in the first quarter of Apple's (AAPL) 2023 fiscal year.
While many attribute a noteworthy portion of Apple's (AAPL) valuation–now more than $2.3T–to this segment, some have worried that portions of the services business are slowing down, perhaps for good.
Not so fast, according to investment firm Bernstein.
Analyst Toni Sacconaghi, who has a market perform rating on Apple (AAPL), noted that even though services growth has slowed down for six straight quarters, and gross margins declined in the last quarter, any slowdown is likely to be cyclical in nature, particularly for advertising and the App Store, and will resume growth.
"Aside from these two segments [advertising and App Store], growth has been much steadier for Apple's other services businesses, averaging 15% over the last 13 quarters," Sacconaghi wrote in an investment note.
In addition to advertising and the App Store, Apple's (AAPL) services business is comprised of iCloud, AppleCare, Apple TV+, Apple Pay, Apple Arcade and Apple Card.
Of course, advertising and the App Store are believed to be a large chunk of Apple's (AAPL) services revenue–perhaps as much as 60%–and as much as 75% of its profits. While advertising has declined precipitously in recent quarters, there are signs that the App Store is rebounding.
Earlier this month, Bank of America analyst Wamsi Mohan said App Store revenue this year grew to $2.7B through February 6, while total iPhone and iPad downloads were down 0.7% year-over-year, citing third-party data from SensorTower.
Mohan noted revenue growth in January in China was healthy and increased by 8.7% year-over-year, though Apple (AAPL) has benefited from recent App Store price increases in certain regions due to the strength of the U.S. dollar.
Bernstein's Sacconaghi pointed out the App Store has averaged around 4% growth over the past four quarters and should grow in the "low double digits" over time, as weakness in gaming is offset by strength in subscriptions.
Over the next three to five years, Sacconaghi believes Apple (AAPL) will grow services revenue between 12% and 15%. This is due to continued growth in its active installed base of now over 2B users, benefits from price increases and the introduction of new offerings such as a potential audience network, which could be worth between $5B and $10B in additional revenue.
Of course, it's not all sunshine and roses for Apple's (AAPL) services business. There is regulatory risk, given that the App Store is under scrutiny around the world due to the company's commission fees for app purchases, which in many cases are as high as 30%.
Additionally, there is concern that Apple's (AAPL) deal with Google (GOOG) (GOOGL) to be its de facto search engine on its devices could be at risk, considering the antitrust case being levied against Google for its search business.
Though global economic uncertainty likely to continue for a while longer – due in part to fits and starts with inflation, the war in Ukraine and China's economic reopening – it's clear that concerns about Apple's (AAPL) Services business is cyclical in nature and likely to pave the way for growth later this year and into 2024, Sacconaghi explained.
Earlier this week, it was reported Apple (AAPL) had achieved major breakthroughs in a secret project to develop a continuous blood glucose monitoring system.
[ad_2]

Source link