Erik ten Hag has defended Anthony Martial by insisting the striker is ready to start matches and that Manchester United play their "best football" when he is in the team.
Martial came off the bench to score in United's 2-0 victory over Everton on Saturday, but has only played in 17 of the club's 49 matches this season.
The Frenchman has sustained five different injuries during that time amid a career that has stalled at Old Trafford although Ten Hag believes Man Utd are a better team when he does play.
"You say I defended him but I just point to the stats, the stats tell you the moment he's on the pitch, the time he needs for a goal is really less," said Ten Hag in his news conference ahead of Thursday's Europa League quarter-final first leg at home to Sevilla.
"When he is in the team, I refer to games against Man City and Liverpool, we play our best football and have the best results as a team.
"I see how he contributes to this team."
FREE TO WATCH: Highlights from Manchester United's win against Everton in the Premier League.

Martial has been back in full training for five weeks, coming on as a substitute against Newcastle, Brentford and Fulham, but is now in contention to make his first start in almost three months.
"We don't have to force things, we're careful," continued Ten Hag, who last started Martial against Man City on January 14 before the striker was forced off at half-time with a hip injury.
"The frontline against Brentford and Everton worked really well. Continually we were a threat, difficult to defend for the opponent.
"He is ready to start games but as I said the frontline against Brentford did really well and we decided to continue that against Everton, and they did very well again.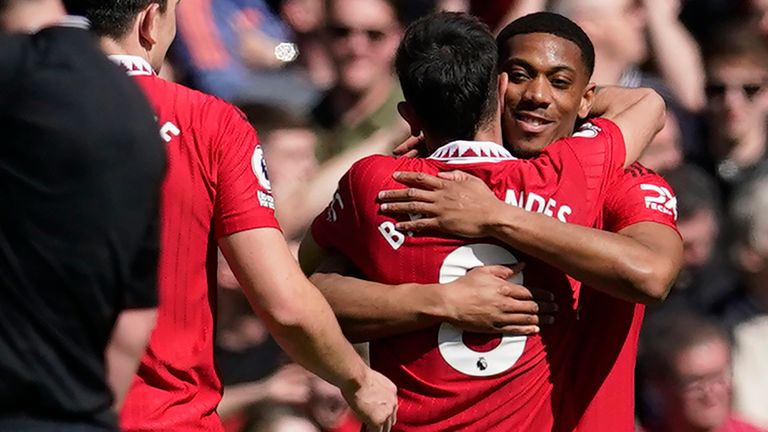 "The advantage was also that we can bring Martial back slowly, in the team, give him minutes, getting used to games at the highest level, higher intensity, but already against Everton he was ready to start the game."
Martial has scored seven goals in 17 appearances this season although has not played a game from start to finish in the Premier League since January 2021.
Manchester United face Sevilla in the first leg of their Europa League quarter-final on Thursday at 8pm, before travelling to Nottingham Forest in the Premier League on Super Sunday on April 16, live on Sky Sports.
April 13: Sevilla (H) – Europa League, kick-off 8pm
April 16: Nottingham Forest (A) – Premier League, kick-off 4.30pm, live on Sky Sports
April 20: Sevilla (A) – Europa League, kick-off 8pm
April 22: Brighton (N) – FA Cup semi-final, kick-off 3pm
April 27: Tottenham (A) – Premier League, kick-off 8:15pm
April 30: Aston Villa (H) – Premier League, kick-off 2pm
May 4: Brighton (A) – Premier League, kick-off 8pm, live on Sky Sports
May 7: West Ham (A) – Premier League, kick-off 7pm
May 13: Wolves (H) – Premier League, kick-off 3pm
May 20: Bournemouth (A) – Premier League, kick-off 3pm
May 28: Fulham (H) – Premier League, kick-off 4.30pm
TBA: Chelsea (H) – Premier League
[ad_2]

Source link